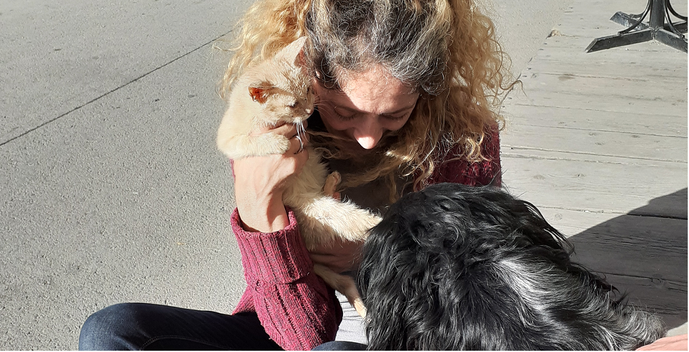 When woman lands on Gozo, her path certainly leads ins Zeppi's in Qala. Why? The "Mundpropaganda"* does not let anyone pass this meeting place on Gozo. The owner and her team are a guarantee for a nice day or entertaining evening.
Sonia Xerri is an extraordinary woman and with her I would like to start my series "Strong – Independent- Lovely: Gozo's Women".
When Sonia took over Zeppi's for seventeen years, it was still a typical men's (football) club as you can find it anywhere on the island.
Well trained by her three brothers, she always knew how to assert herself and to stand as a woman in the hospitality industry on a very patriarchal island. It created a meeting place where locals, immigrants from all over the world and holidaymakers alike feel at home.
She did not always have it easy, but Alex, her long-time companion, also actively supported her in her plan to give the artists of Gozo a stage.
But that is not all, Sonia works to improve the situation for musicians and organizers on Gozo. Admission of venues and their opening hours,the vexed topic of volume and their restrictions from the last century to the modern age is not easy here either! As well as the preservation of our environment and rural life, it is very important to her. Is it what many holidaymakers bring to Gozo and not party, beach and rattling quads! The building rage is also a thorn in her eye and to endure all this and to fight against it is not easy for this delicate little woman. Her family, pets and friends give her strength she told me.
"My kittens give me love, listen and don't disagree!"
Sonia Xerri says with a laugh!
The development on Gozo makes her sick, she said in our conversation, and it is much more important that the principle of "quality instead of quantity" should finally make its way on to our island.
Their stamina is impressive. Right now, in times of pandemic, she is proving it. Are we going to close the pub and retire? Not Sonia – she clearly closes according to the rules and is back with the "window sale" during the day to serve her regular customers the coffee and toast for a break. She take on the hardship of no more tables outdoors with disinfection and service at the table, it cannot be small.
Do without music? Not with Sonia: "Backdoor Jam" from Zeppi's is Monday at 8 PM under YouTube the answer for the fan community! Class, Sonia!
Ch-ch-changes (Turn and face the strange) Ch-ch- changes – Don't want to be a richer one – Ch-ch-d-changes (Turn and face the strange) Ch-ch- changes – Just gonna have to be a different one – Time may change me -But I can't trace time….
David Bowie, singer songwriter (Hunky Dory)1971
This could be Sonia's motto of her life.
What comes after the pandemic? A party? Probably rather again the quiet sounds of the life music evenings in the pub.
Sonia, the Lady of the Night has discovered the sun and the day for herself since last year – she should shine this adorable fairy in the Zeppi's, who always has a little chat with her guests, also in the future!
Stay strong lovely girl, yours Rita
*means talk from person to person