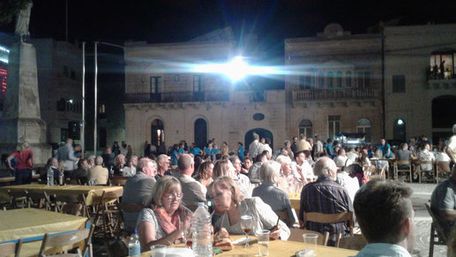 Anyone who knows me or has followed my blog knows I have my own view of the world around me.
My focus is on the circumstances in which my fellow citizens live. That's not right: my sexual comrades should be called it. My look is female, what else!
So it's no surprise that I'm now bringing a series of portraits of women to life.
Under the heading "Tough -  strong  -  beautiful, Women on Gozo" articles will appear here.
With these short stories I would also like to describe the social and cultural side of my island. It will come as no surprise that much of one's own life is familiar. Those who live in rural areas will often find themselves again.
Here, too, the well-known model of the division of labour is the woman: family, children, home and employment; Man: employment, sport and leisure activities. Do you notice what?
I do not fail to recognize that there is a change. More and more men are taking responsibility for children and family, but they are in a difficult position. In our society, fathers on parental leave are still ridiculed. Too bad! Girls help them and give up responsibility!!!
As an "Emanze" (Suffragette) from Germany, I was amazed, or should I say shocked, about the view of the Gozitan men. I sat down on the bench at the bus stop, in the coffee shop or in the evening in the Pup, already one man was there to tell me his life story, to offer his company or to present himself in the best light. My 'no' to the questions of married, children or family and my statement 'I am an independent woman' always had the same result: first incomprehension and then caution.
Really funny how easy it is to keep men at a distance, probably, not only here on Gozo.
Anecdote on the subject:
My water boiler in the kitchen gave up the work. My landlord sent the electrician with the words "keep an eye on him when he works!". He came, immediately started to upgrade the device. When I asked whether he had considered the connection to the washing machine, he was unsure. What does the woman want, is it my thing?!
Apparently, he felt hit in his professional honor or caught in a mistake, because he separated the machine from the boiler. But then stopped work with the words: "I'll be back tonight when the man is at home."  Did he mean my landlord? My answer: "Sorry, but I am the man in the house!" made him speechless but left him to finish his work.
Sure, the next time I had another craftsman in the house.