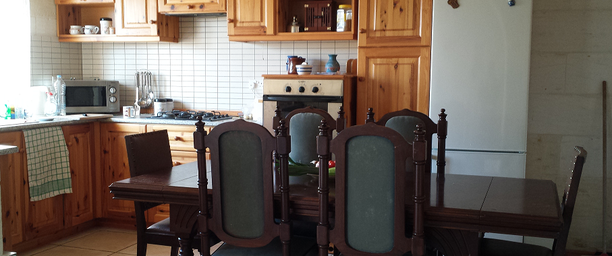 This question doesn't let my sleep a long time. I want a personally surrroundings where I live. In the past I have changed the style every three years and love experiments. Now I will live in a completed house, where from the toilette brush to the sunbed anything is their.
A really problem of mine! How I find a solution I will tell you here....
Okay, I could have an idea from my new life when I came in the house of Qala the first time.
The decoration, the paintings and the household goods will be change, because my things are arriving soon.
My landlord let my do and I started with my work.  The bedroom at the basement I don't need and it is now my dinning room. The table and chairs leave the kitchen, because I need a space for my office. 
The chouches and the living area is really old fashion.
Befor upper the house:
 I started working and take apart one twin bed und upholstered the other as a daily bed, witch is using by Mieze for sleeping and dreaming about her trips and discoveries in the surerounding.
The wardbroabs, sideboard and nightstands changed from the bedroom to the kitchen and build now my office. Their for the table, chairs, vine board and foodcards left the kitchen and my dinning room with daily bd was finished. The ensiute douch/ WC is now us by guests and swimmers.
New pillow covers upper the seating and new curtains and black showcase and couch table in glas and metal completed the ensemble und push the style from old to modern. Where are they from? The well known swedish furnisher company is the answer! They are on Malta too? No. not really, but theire for we have the "Maltashopper", the best solution for styling your home by seatting on the sofa.
Registrated at the website you can surf through the catalog of IKEA Italy. Your decision will be ordered for next deadline, the delievery organize for shipping and send by ship from Sicilia to Malta. You get the confirmation sheet by email about the goods are in stock and when it will arrive at your address. If something is missing these will come at the next delievery date. You only pay for shipping, the tour from Malta to your home is for free.
I changed my home styling from the basement to the roof in three month. I thing it looks good!
Where I stow the things of the owner? I collected them in boxes and builded a storeroom by shelves in the second living area and they are invisible!